25th May, 2022
LUDLOW BASED SISTERS SET TO REVOLUTIONISE HOW YOU BRUSH YOUR TEETH


Sisters Eve and Suzanne Carnall launched award-winning business The Green Woman back in 2013. They realised that of the thousands of beauty and skincare products out there that claimed to be natural, organic and good for the environment , very few measured up to their claims. They decided to do something about it and shake up the sector.

Over the past decade they have created their primary product Fit Pit natural deodorant and a popular range of moisturisers which are produced at The Green Woman makery in Ludlow. Now the sisters have launched the latest addition to their range - White & Green mineral toothpaste – a completely natural but highly effective and minty fresh toothpaste.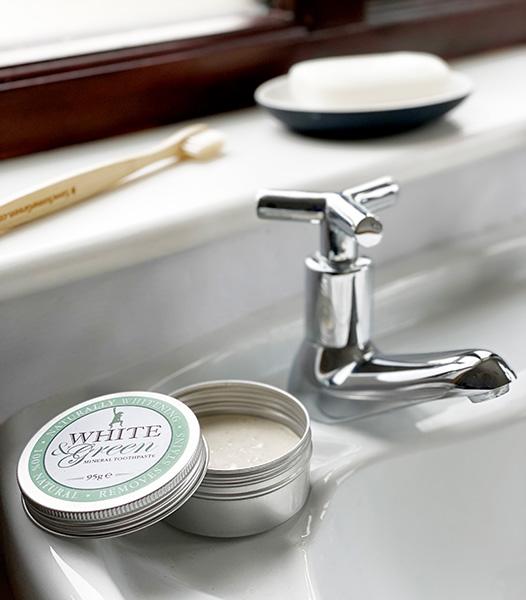 White & Green mineral toothpaste contains no Fluoride or Triclosan and artificial flavourings have been replaced with natural plant extracts such as peppermint essential oil.
Instead of harsh chemicals for whitening it uses natural bicarbonate of soda. Most of the plaque prevention benefit of brushing your teeth comes from the action of brushing itself, but the ingredients in natural toothpaste also help to reduce the harmful bacteria that cause gum and bad breath problems.

The Green Woman co-founder Eve Carnall who has a chemistry degree and Masters in Environmental Decision Making, said: "Industrial toothpastes can include unsustainable palm oil or animal products but our products will always be vegan friendly. Unlike many toothpastes ours is also plastic free. Even though you spit your toothpaste out you may still ingest the artificial chemicals in industrial toothpaste so by choosing a natural toothpaste you are choosing to use a safer alternative.

"Fluoride is added to most toothpaste, and whilst it has a beneficial effect on teeth it has damaging long term effects on the body and many people now choose Fluoride free. Triclosan is another synthetic chemical that is frequently added to toothpaste and is a known hormone disrupter which can lead to increased cancer risk," she said.

The White & Green mineral toothpaste formula is also free from artificial sweeteners or colours and doesn't use surfactants, artificial foaming agents or artificial preservatives.

Suzanne added: "We're so excited to bring this product to the market. When considering what next after our Fit Pit deodorant and moisturisers, toothpaste seemed the perfect next step. We've worked incredibly hard and been very thorough to choose only the best, most effective natural ingredients to go into it. We can't wait to start seeing it on bathroom shelves. It's certainly on the shelves of the team here!".

White & Green Mineral Toothpaste is available to buy from www.thegreenwoman.co.uk or from stockists which can also be found on the website.