Going Green: Our Favourite Sustainable Swaps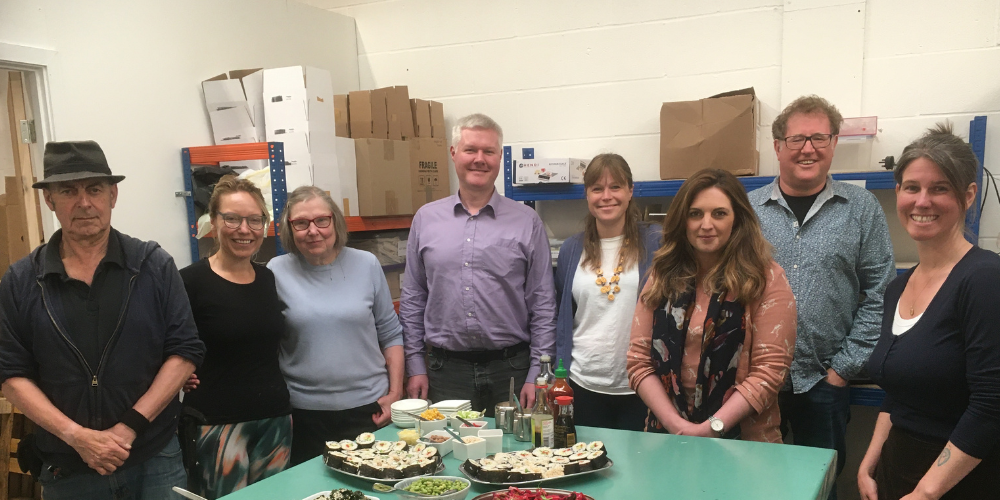 Sadly, the main causes of climate change and environmental destruction are systemic and corporate. As a small family run business built by environmental campaigners, we understand that alongside the things we do as individuals, we also need to consider the bigger picture. You could call this a two-pronged approach. Make positive choices where you can at home, AND support the companies who are doing good things in the fight against the overuse of plastics and pollutants.
So we asked the lovely members of our team to take a closer look at what we do at home, and suggest other like-minded companies whose products we love (natural, organic and chemical free, just like us). We've really enjoyed sharing our favourite green 'swaps' and we hope that some of them might inspire you too.
Eve, Co-Founder at The Green Woman
I switched from plastic toothbrushes to Truthbrushes - a bamboo and cornstarch fiber alternative. They're a really solid toothbrush that's nice to use and comes in different colours and hardness of bristle. Treat your mouth well.
Suzanne, Co-Founder at The Green Woman
Mooncup make soft eco-friendly menstrual cups which are a healthier and waste-free alternative to tampons and pads. These are designed by women, for women and save so much plastic every month – hurrah!
Emma, Wholesale Manager & Brand Ambassador at The Green Woman
I use Smol clothes washing capsules and dishwasher tabs. They're plastic free, eco-friendly and available on monthly subscription I also buy bags of dried herbs and spices (ideally from zero waste refill shops where possible) instead of the tiny glass spice jars from the supermarket. Then I save other jars to store the herbs and spices in. But I think my favourite ever swap has to be from Sure Extra Strength deodorant to Fit Pit – it works a million times better (even though I'm a very sweaty person!) and no chemicals, aluminium or animal cruelty. Win win!
Anne, Fulfilment at The Green Woman
I always save the waxed paper bags inside cereal packets to store items in my fridge. My Mum used to pack my sandwiches in them for school before the days of plastic!
Jessica, Marketing at The Green Woman
At the end of the day there is nothing better than taking off my make-up and feeling fresh, but I was conscious of the amount of throw-away cotton wool and wipes I was using. I made the swap to reusable face wipes that are made from sustainably produced bamboo and I haven't looked back. Easy on the eyes, face and planet. I have also ditched the baby wipes for my children's mealtimes in favour of good old-fashioned flannels. So much better for cleaning messy chops! In the garden I like to use old yoghurt pots for growing seedlings and have been known to make some rather 'original' planters from found objects. I currently have a Thyme plant growing in an old teapot!


Elizabeth, Makery Manager at The Green Woman
I find the mesh bags sold on most supermarkets are so good for buying loose fruit and vegetables instead of using single use plastic bags. Wagamama take out tubs make really good on the go salad bowls. Tesco are now taking soft plastic bags (bread bags etc) as well as old carrier bags.


Lamorna, Makery Technician at The Green Woman
I use my food waste as compost/fertiliser in my allotment, and I re-use cardboard to cover my vegetable patches over winter. I also save and reuse all my plastic plant pots.
I've discovered a fantastic non-toxic company called Ffern who make small batch organic, vegan and seasonal perfume. They also use biodegradable packaging including a mushroom based 'cardboard' which you can actually grow seedlings in! They include basil seeds in recycled paper to plant.
Caroline, Fulfilment at The Green Woman
We do a variety of swaps in the house from reusing and reducing waste to making our own natural alternatives. I always use soap nuts which are a natural and chemical free alternative to regular washing detergent. We also buy soap, and razor blades (for my husband) that come wrapped in paper. I use washing up liquid and bicarb to do most of the cleaning jobs around the house, rather than multiple bottles of cleaning fluids.
Mike, Graphic Designer at The Green Woman
My favourite 'swap' is actually an event that my wife Laura used to run when we were living in Tunbridge Wells - a 'food swap' where people would bring homemade/home grown produce and lay them out so others could browse. Laura would blow a whistle and shout "Swap!" as a signal for the often frantic (but always fun) swapping to begin… cupcakes for artichokes… raspberries for honey… etc. The kids used to love it!
What we love, particularly with alternative products, is that each one of them has an untold story behind it that has huge positive environmental effects from manufacture to disposal. You can support them, like you support us, with the peace of mind that what's behind the scenes is people who care, unlike many corporate manufacturers.


We hope that our ideas have got you thinking about what green swaps you can make today, but it doesn't stop there. Don't feel that you are limited to your own home life; think about the other 'hats' that you wear and where else you can influence mass buying, such as in the workplace, your social groups or in your children's school. The more of us that create influence as conscious consumers, the more impact we can make.


Be the change you want to see in the world.
The Green Woman Team x
Ready to learn more?
Our blog on plastic in beauty products talks about microplastics and how to avoid them.